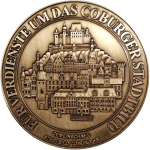 Hotel Hahnmühle 1323 is the second oldest listed half-timbered building in Coburg built in 1323. Remnants of the late medieval outer city wall can be found in the hotel, which is decorated with a rich ornamental gable. The renovation was carried out in mid-2013 while preserving historical details, such as Visible sandstone masonry and half-timbering in the rooms, finished with great attention to detail.
Our guests have 19 rooms at their disposal, which are stylishly furnished with real wood furniture and can be booked as single or double rooms. Upon prior telephone request, it is possible to add an extra bed to our Deluxe room category for a fee.
The harmoniously laid out courtyard invites you to linger and relax. We kindly point out that for monument protection reasons our hotel has no elevator and is not air-conditioned.
Hotel right in the center of Coburg
The charming Hotel Hahnmühle 1323 is located in the center of Coburg.
Various sights and attractions can be reached by foot in a few minutes, such as the Coburg Castle, the square with many stores, cafés, restaurants, the theater, the city garden, the local swimming pool and the cinema.
The central station for trains and busses is only 700 m away and the next highway can be reached in 5 km.