Your extraordinary hotel in Coburg
Almost 700 years of history
The hotel in Coburg with the special ambience
We warmly welcome you to our romantic hotel in Coburg. The Hotel "Hahnmühle 1323" is the second oldest, listed half-timbered building in Coburg and was built in 1323. It was first mentioned as "Haynmühle" where grain was grinded by the power of the Hahn River. "Mühle" is the German word for mill, that's where our name comes from. Over the centuries, the use of the Hahnmühle building changed from various mills to a tannery, a furniture store, a café and finally a butcher's shop. Through extensive renovation work, the half-timbered building became the glamorous "Hotel Hahnmühle 1323", while preserving the historical details.
Let yourself be charmed by the power of the historic building. The well-preserved and visible sandstone masonry and the half-timbering reflect the history of the listed building and are shown in the rooms.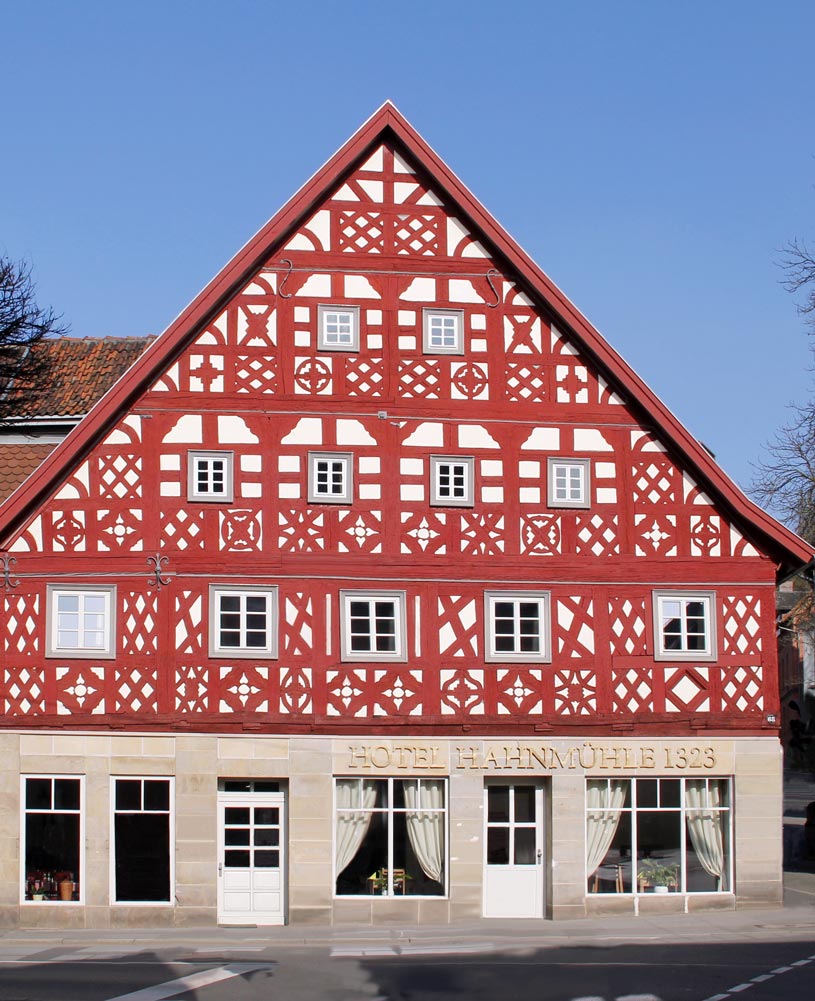 Simply feel good - Hotel in Coburg with excellent facilities
Are there any questions left?
We will help you quickly and gladly
This is what our guests say about our hotel
Very nice old half-timbered house in the center of Coburg. Free parking at the hotel. Walks can be done on foot. Friendly welcome, clean, spacious rooms, a modern bathroom.
Perfect location, nice house and very friendly staff.
Immaculate and impeccable service in one of the most extraordinary hotels: the newly renovated historic building is almost 700 years old. Employees have an enormous zeal to do everything "just right" and put a lot of time and effort into doing it with a smile! The location is wonderful for traveling on foot, by train or by car: the city center is about 5 minutes on foot. The accommodation was luxurious and the breakfast great. I cannot recommend this hotel enough: it is a triumph of style and service in every way.